For Mother's Day this year, we launched our Mothers of Fitness community to celebrate the strong women in our midst. Part of the intention of this group was to allow mothers to share their experiences, offer advice to other women in their shoes, and just have a place to gush over something they all have in common--the love of motherhood and health and fitness. You can join the party
here
. Katie Dial, one of our awesome group 'Momerators' shares her fitness story and her experience with motherhood.
How did you become interested in fitness?
I was always athletic growing up…I played soccer and did track, and was on the competitive swimming and diving team through middle and high school. I worked out fairly often prior to having kids but life happened and I let myself get pretty inconsistent after getting married and my first pregnancy loss. Then, six years later, I had my oldest son, who was very healthy thankfully. Six years after that, I had my second baby and I felt like three pregnancies had taken their toll on my body. I first started working out consistently about three months after my youngest son was born. I had never done CrossFit but immediately loved the constantly varied workouts and training, I saw results almost immediately. Tannon is 4-years-old now and I've lost 35 pounds and gained an entirely new career as a fitness coach and trainer. I love sharing fitness content to help inspire and encourage other moms as well. I'm finishing up my CFL1 Coach's certification course and regularly working out at my home box as well as posting an occasional online Instagram workout video to help motivate the other moms in the community.
What inspired you to start posting on Instagram and sharing your journey?
I felt a need to share my fitness journey from post pregnancy until now because I no longer recognized my body in the mirror. I struggled with low energy and weight gain. I felt determined to regain my confidence and health for my sons and myself, to be honest. So, I wanted to help inspire other mothers who are too afraid to speak up, but out there struggling with their own self image and body confidence. Also to pass on the healthy tips and eating habits that have been game changers for me. My trainers and coaches have poured infinite amounts of time and energy into training me andI feel a responsibility to pay that forward to others.
What has been the most challenging part of juggling work, fitness, and motherhood?
Staying organized and on schedule! I started thinking to myself, "What area/task is going to be the ultimate disappointment if you don't complete it? What are the PRIORITIES for the day or week?" Then, I focus on crushing those things first! Every week brings new challenges and changes. I've had to learn to focus on my goals and let things that won't matter long term go. I try not to get too caught up in worrying about everything being perfect and I try to ALWAYS keep an appointment book and weekly schedule no matter what to help me stay organized.
What is your favorite part about being a mom?
I can't pick just one, but watching the boys love each other and have a close bond is pretty special to see. It gives my heart so much joy to see them laughing and playing together. There are so many things about my boys I love so much. I can't believe they're mine! They melt my heart with their sweet questions and I try to always be there for them.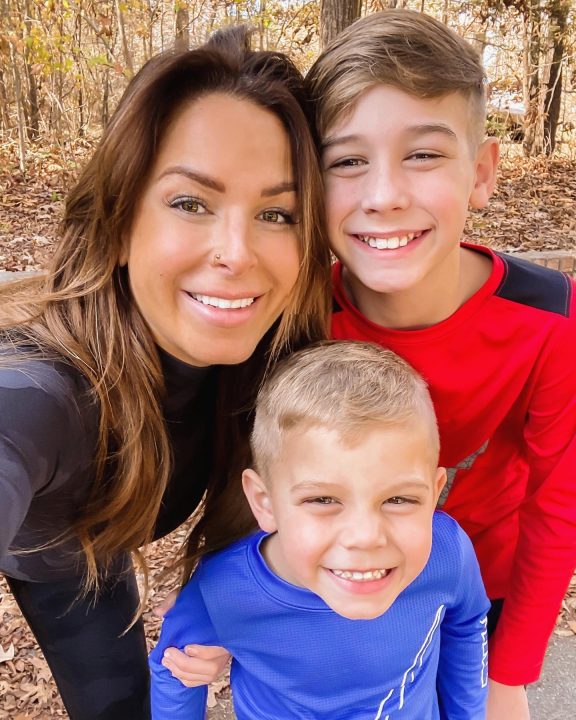 Do you have any advice for other moms that are thinking about starting or need help continuing their fitness journey?
Keep Grinding No Matter What. Never Give Up! Keep a short term goal attainable daily and weekly to help encourage small changes that ultimately add up to big victories.
How do you take time for yourself? Any favorite self care activities?
Time management is a total key. One thing I always try to make time for is getting my lashes done. Its a very small thing but that time is when I just relax completely and it helps me to feel confident in and out of the gym, with or without makeup. Part of my quality self care time IS being in the gym and working out. I just feel 100% better when I'm in a balanced flow with exercise and nutrition.
How have you been coping with this crazy year in regards to COVID and having young kids?
2020 has been the year I truly realized how important staying healthy and active is. I realized just how important CrossFit and my community is to me. I went to an empty dark gym and did home workouts for months and stayed consistent. Even during the shutdown we posted at home workouts and me and our boys swam in the pool almost everyday. I realized how much I loved being healthy and helping others start healthy habits. I just finished my coaching certification and can't think of a better way to end this year.
Are you watching any good TV shows or movies now that you want to share?
I loved watching Tidying Up with Marie Kondo on Netflix. I'm always trying to be more organized and she helps so many people.
What are some goals you have going into 2021?
One personal goal is to travel more in 2021. I loved Europe and want to go back to see more of it. Another goal is reaching more followers on Instagram to help others and promote healthy habits, coaching and fashion blogging more consistently. I would LOVE to take my boys to Disneyland when we go out of Phase 2.
Do you have any products or services (for you or your kids) that you can't live without or are essential to your everyday routine?
FITAID, Lush KARMA soap/perfume, coffee anytime, LOTS of workout activewear...NOBULL trainers, I wear them almost every workout.
What are your hobbies/interests outside of fitness?
I'm a hairstylist and own a salon and also share fashion blogging on Instagram and Facebook for Rewardstyle/Liketoknow.it. Basically anything helping others to look or feel better about themselves! Everyone at the gym jokes about life makeovers with me, I love helping people look good!