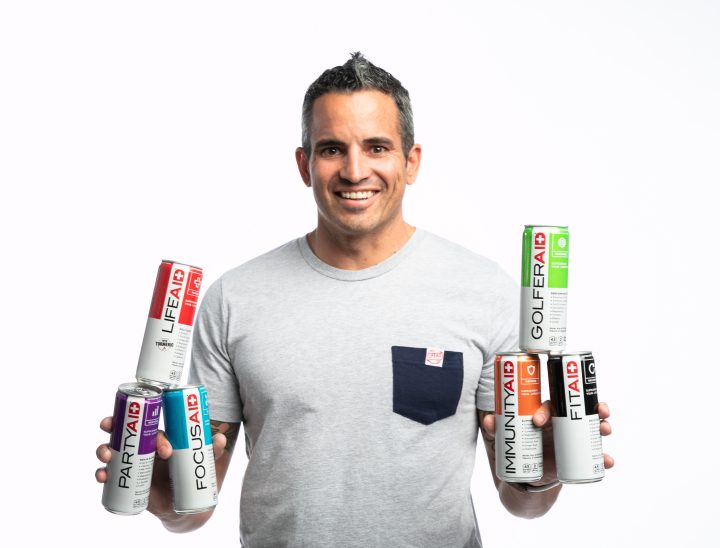 My passion for athleticism and my ability to equip people with the formula to preform at maximum capacity has played a major role throughout my career. My name is Aaron Hinde and I am the Co-Founder and President of LIFEAID Beverage Company, where we re-imagine what you drink. LIFEAID is a leading manufacturer of premium, healthy, and convenient nutritional products designed to boost performance and speed recovery for people pursuing active and healthy lifestyles.
After earning a Doctor of Chiropractic degree from Palmer College, I served as Clinic Director at Hinde Chiropractic Sports Injury and Pain Center for over ten years. As one of the top practices in Santa Cruz County, I helped over 5,000 individuals, including professional athletes, erase their pain and return to function as quickly as possible.
Being immersed in the health field, I noticed a genuine need in the marketplace for clean and effective sports drinks without the sugar. In 2011, I co-founded LIFEAID to provide individuals with specially formulated, low-sugar, high-value natural supplement beverages. Each of our five beverage options, FITAID, FOCUSAID, LIFEAID, TRAVELAID, GOLFERAID, and PARTYAID, are made with custom ingredients to provide customers with unique benefits ranging from enhancing athletic execution, to delivering mental acuity and improved concentration.
In addition to providing top-of-the-line products to over one million customers worldwide each month, the team at LifeAID is committed to giving back. We proudly support our local community, as well as sponsor dozens of top CrossFit athletes, Spartan Racers, and PGA professionals. With our continued success, LifeAID is dedicated to disrupting the beverage industry and people's expectations of sports and energy drinks.