Pumpkin spice, flannels, cold weather… FALL is here! And there is no better way to celebrate the crisp air and falling leaves than with everyone's favorite...pumpkins! Pumpkin bread, pumpkin pie, even pumpkin risotto. Read on for some great (and easy!) pumpkin recipes.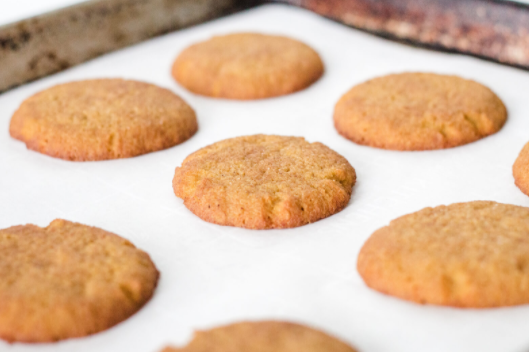 Keto Pumpkin Cookies
These cookies are autumn in a bite. The perfect consistency with a crisp and sugary outside and a soft inside gives you the perfect pumpkin-y fall flavor. These cookies are keto and vegan! Here's how to make them.
Ingredients:
2 cups almond flour
½ teaspoon baking powder
½ teaspoon sea salt
1 tablespoon flax seed powder
3 tablespoon water
½ cup unsweetened pumpkin puree
¼ cup coconut oil
1 teaspoon vanilla extract
½ cup brown erythritol
2 teaspoon ground cinnamon
4 teaspoon brown erythritol (to sprinkle on top)
Instructions:
Preheat oven to 350F (180C) and line a cookie tray with baking paper. 

Add the almond flour, baking powder, and salt to a medium mixing bowl and whisk until well combined and there are no lumps of flour. 

Make a "flax egg" by mixing the 1 tbsp. flax powder and 3 tbsp. water together in a small bowl. Allow to sit for 5 minutes. Alternatively, could use 1 egg if not vegan. 

Add the flax egg, pumpkin puree, melted coconut oil, and vanilla extract to a bowl and whisk together until smooth. 

Add the brown granulated erythritol to the wet ingredients. Stir until well-combined and most of the sweetener granules are dissolved. 

Add the wet ingredients to the almond flour mixture. Stir until the dough sticks together and has a similar texture to regular cookie dough. If the dough is too wet, add another ¼ to ½ a cup of almond flour. 

Oil your hands, then roll 2 tbsp. of dough at a time into a ball and place on the baking sheet. You should end up with 12 cookie dough balls. Use a fork to press each ball down crosswise until they're about ½ inch (1 ½ cm.) thick. 

Bake for 15 - 20 minutes at 350F (180C) until cookies are just starting to turn brown and golden. Remove from the oven and sprinkle with brown erythritol and cinnamon while warm. 

Allow the cookies to cool on the cookie tray for 20 minutes. Then, carefully transfer them to a wire cooling rack to finish cooling.  And

voila

! Vegan & keto pumpkin cookies!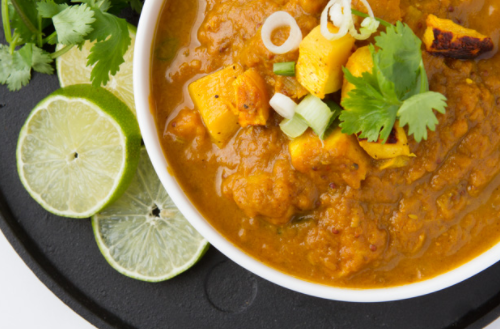 Vegan Pumpkin Curry
This dish has all the well-developed flavors of curry but with a fraction of the effort and time! The spices and pumpkin flavors melt together to give you a taste of the autumn season. And, it's vegan! Here is how to make vegan pumpkin curry. 
Ingredients: 
1 1/2 Tbsp Coconut oil
1 Large sweet potato cut into 1/2 inch cubes (about 370g)
1 Medium onion, roughly chopped
1/2 Tbsp Garlic, minced
1/2 Tbsp Ginger, minced
4 tsps Curry powder
3 tsps Cumin
1 tsp Salt
1 1/2 Cups Canned Pumpkin puree not pumpkin pie filling!
1 cup Light coconut milk
1/2 Cup Low-sodium vegetable broth
1 tsp Sriracha
1/2 Cup Cilantro roughly chopped
Instructions:
Heat coconut oil over med/high heat in a large pan. 

Add the chopped potato, onions, ginger, garlic, curry powder, and cumin and cook for 8-10 mins, until they are fragrant and begin to brown.

Add the pumpkin, coconut milk and broth. Give them a good stir until they are well combined. Bring to a boil and boil for 3 minutes, stirring frequently.

After 3 minutes, cover and simmer until the potatoes are soft, 10 minutes, stirring occasionally.

Then, uncover and simmer for about 5 minutes, stirring occasionally, to thicken. Then, stir in the sriracha.

Stir in the cilantro and DEVOUR!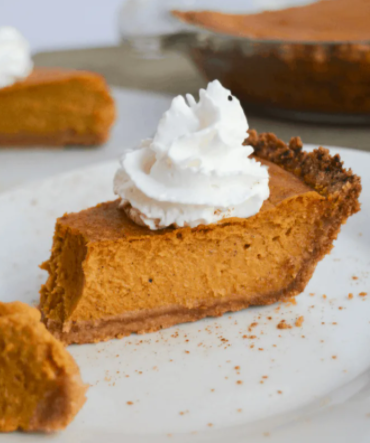 Keto Pumpkin Pie
Everybody loves pumpkin pie. Whether it's the last thing you eat on Thanksgiving or just a treat to get you through these fall months, this keto pumpkin pie will have you dying for more. Instructions below! 
Ingredients:
Crust 
2 cups almond flour

4 tablespoons butter 

1 tablespoon brown swerve (or your preferred sweetener) 
Filling 
2 cups heavy whipping cream 

2/3 cup powdered swerve (or your preferred sweetener) 

4 tablespoons butter

2 eggs, beaten

2 teaspoon

vanilla extract

1 15 ounce can pumpkin puree 

1 teaspoon pumpkin pie spice 
Instructions:
To make crust 
Place almond flour, butter, and swerve in food processor and pulse until combined, about 10 times. Dough will stay formed if you scoop a little between your fingers when ready. 
Press dough evenly into 9-inch pan, including up the sides. 
To make filling 
In a large saucepan over medium heat, whisk together the heavy whipping cream, erythritol, butter, and vanilla extract. Stir often until a slight brown, thick sweetened condensed milk forms 
Remove from heat and let cool for 15 minutes 
To assemble
Pour pumpkin pie filling into prepared pie crust. Check intermittently through baking to ensure crust isn't browning too much. If they begin to get too dark, cover the edges with foil. Bake for 35 minutes or until a toothpick placed in the center of the pie comes out clean. Cool completely before serving.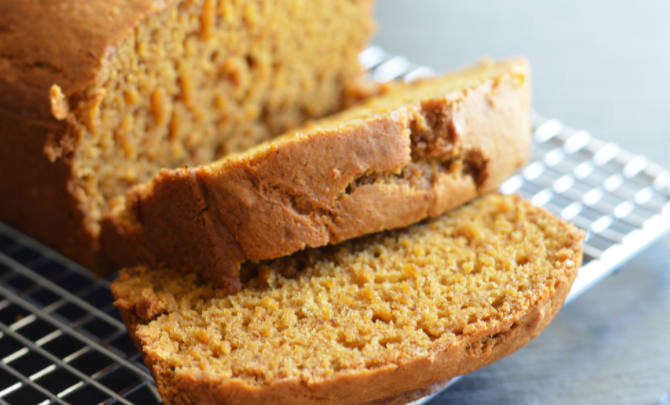 Vegan Pumpkin Bread
Mmm! This vegan pumpkin bread has the perfect amount of sweetness, moistness, and pumpkin flavor. It is easy to make and will have your kitchen smelling like an Autumn wonderland. Here's how to make vegan pumpkin bread. 
Ingredients: 
1 cup pumpkin puree (make sure not to use pumpkin pie FILLING)
1 cup brown sugar, light or dark, firmly packed
1/2 cup oil canola or vegetable oil work well
3 tbsp maple syrup (agave syrup can also be used)
3 tbsp apple juice (water or apple cider can also be used)
1 3/4 cups all-purpose flour (white whole wheat flour can also be used)
1 tsp baking soda
1 tsp baking powder
1/2 tsp salt
2 tsp
pumpkin pie spice
(individual spices can also be used)
Instructions:
Preheat oven to 400 degrees F. Generously spray a loaf pan with non-stick cooking spray.

In a large bowl, combine pumpkin, brown sugar, syrup, oil and apple juice. Mix well to combine.

Add flour, baking powder, baking soda, salt and pumpkin pie spice to wet ingredients, and mix until just combined. Do not over mix.

Pour batter into prepared loaf pan and bake for approximately 45-55 minutes, or until a toothpick inserted into the center comes out clean.

Remove from oven and allow to cool on a wire rack, in loaf pan, for approximately 15 minutes. Then carefully invert the pan to release the bread. Return loaf of bread to wire rack and allow to continue to cool, or gently slice and serve. Bread can be somewhat fragile while still hot, so just be gentle when slicing.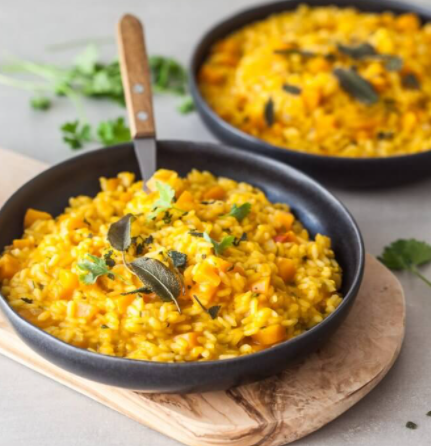 Vegan Pumpkin "Cheddar" Risotto
This vegan pumpkin "cheddar" risotto is everything you love about Fall. It uses cauliflower instead of risotto so you can feel good eating this low carb dish and enjoy it, too! Instructions to make this delicious vegan pumpkin "cheddar" risotto below! 
Ingredients: 
1/4 cup sliced leek
2 tablespoon olive oil 
1 teaspoon paprika
12 ounces (about 3 cups) of riced cauliflower
1/2 cup pureed pumpkin
1/4 nutritional yeast 
1/4 cup of veggie broth (or dry wine, or nondairy milk) 
Salt and pepper to taste
1/4 cup fresh chopped parsley 
Instructions:
In a fairly large saucepan on medium heat, add the olive oil, leek, paprika, salt and pepper.

Let the leek soften (cook until it's pretty translucent), stirring occasionally. .

Add in cauliflower, and stir until thoroughly combined.

Pour in the veggie broth and place the lid on the saucepan, and let this cook for about 10-15 minutes, stirring occasionally so as not to have the cauliflower stick.

Stir in the pumpkin puree and nutritional yeast.

Taste the mixture (carefully!) - add more salt/pepper if necessary. If the cauliflower is still a bit hard, cook until it is softer, and more like rice.

Remove the mixture from heat and garnish with parsley.

Serve and enjoy!
If you find yourself bookmarking endless fall pumpkin vegan and keto recipes, now you have them all in one place. If you try any of our favorite fall recipes, we would love to see your master chef skills on Instagram - tag us at @FITAID !