I mean, who doesn't enjoy a quality slice of pizza - or two, or three. Easily one of the best comfort foods out there. A slice of pizza can be enjoyed virtually anywhere, whether at a family party, your local pizzeria, or even by yourself with your favorite movie, a slice of pizza (or a whole pie) is never a bad idea. 
Just because following a vegan diet means you must avoid dairy, does not mean you have to avoid pizza all together. These recipes are so full of flavor, you won't even notice it's not there! Here are some of the best and easy vegan pizza recipes we've tried (warning: you'll be craving a fresh slice after this!). 
Grilled Veggie Pizza with Yeast-Free Crust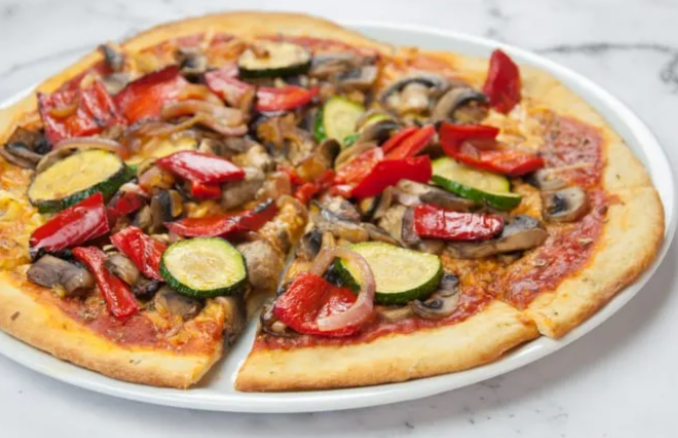 Ingredients 
Yeast-Free Pizza Crust 
2 ½ cups all-purpose flour

1 tablespoon baking powder 

½ teaspoon salt 

1 teaspoon olive oil 

⅔ cup lukewarm water
Pizza Sauce 
½ cup tomato purée 

¼ teaspoon salt 

½ teaspoon dried oregano 

½ teaspoon dried basil
Toppings
1 teaspoon olive oil (+more for brushing the crust) 

½ zucchini 

1 red bell pepper (cut into chunks) 

5 cups mushrooms 

1 red onion 

¾ cup vegan cheese shreds

1 pinch salt 
Instructions
For the pizza dough:

Combine the all-purpose flour, baking powder and salt in a large bowl. Add the olive oil and water (little by little) and knead until a smooth dough forms. You might not need all the water or add a bit more. The dough should be non-sticky. If it gets too sticky, add a bit more flour. You can either knead it by hand or let it knead in a

kitchen machine

.

For the pizza sauce:

Combine the tomato purée, salt, dried oregano and dried basil. 

In a large pan, heat the olive oil and add the zucchini, red bell pepper, mushrooms and red onion. Season with a pinch of salt and let it cook on medium to high heat until the veggies are soft. 

Preheat the oven to 480°F/250°C.

Divide the pizza dough into two equal parts and roll them each out on a lightly floured parchment paper. Spread the tomato sauce on top. Cover with vegan cheese shreds and veggies. Brush the crust with olive oil (or herbed olive oil if you have one available!). Bake the pizzas in the oven for about 15 minutes until crispy. Enjoy! 
Vegan Pepperoni Pizza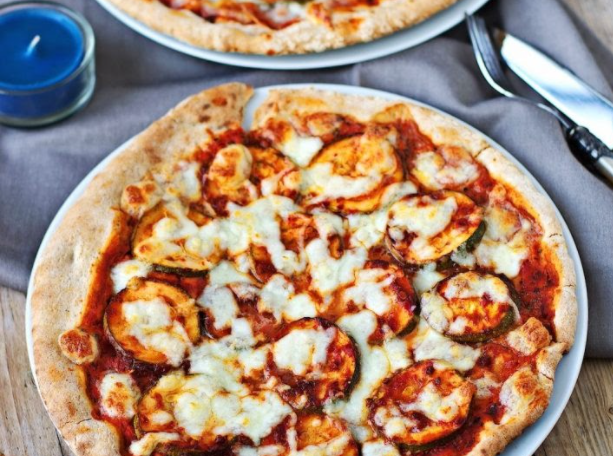 Ingredients
For the Crust 
1 ½ cup gluten-free flour 

½ cup water 

1 tablespoon olive oil 

2 teaspoon aluminum free baking powder 

Pinch of salt 
For the Topping
2 tablespoons tomato paste 

2 zucchini 

Hot sauce (all to your liking) 

2 tablespoons tamari 

2 tablespoons balsamic vinegar

Vegan cheese (as much as you desire) 
Instructions 
Prepare the Zucchini "Pepperoni" 
Wash and thinly slice the zucchini.

In a baking dish, mix hot sauce with tamari and balsamic vinegar. Add the zucchini and mix, so that they are covered well.

Cover and marinate overnight in the fridge.

Pro-tip: Put the spiced zucchini in the oven and bake at medium heat (320°F/160°C) for 10-15 minutes before storing in the fridge.
For the Crust
Give all ingredients for the dough to a bowl and knead well. You should have a slightly moist but sticky dough. Let it sit for a couple of minutes.

Form the pizza crust by spreading the dough.
To Make the Pizza 
Preheat oven to 390°F (200°C)

Spread the tomato paste on top of the crust. Add the marinated spicy zucchini slices. Top off with vegan cheese. You can of course use as much as you like.

Bake in the oven for 12-15 minutes.
Spinach Artichoke Pizza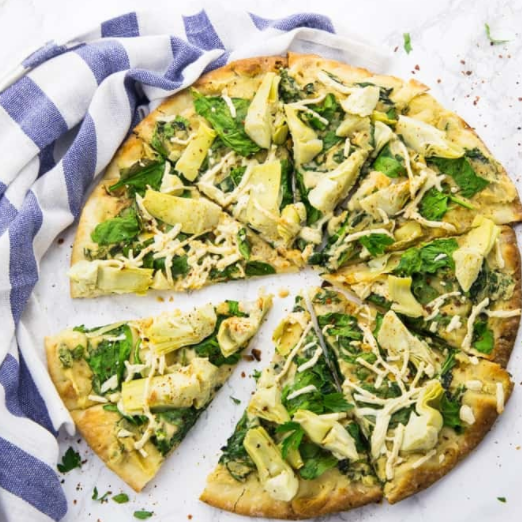 Ingredients 
1 can white beans 

¼ cup water 

2 tablespoons nutritional yeast

½ cups cashews 

1 tablespoon fresh lemon juice 

1 onion, chopped 

5 cups fresh spinach

2 cloves garlic, minced 

1 can artichoke hearts, drained 

Salt 

Black pepper 

Red pepper flakes 

2 premade pizza dough

or

dough from scratch 

½ cup vegan mozzarella cheese
Instructions 
Preheat the oven to 350 °F.

Rinse and drain the canned white beans and put them in a blender together with the cashews, the lemon juice, the water, and the nutritional yeast. If you want to make it a bit easier for your blender, you can soak them in water for 4-6 hours before using them. Put aside.

Heat some oil in a large pan and sauté the onion for about 3 minutes until they become translucent. After 2 minutes, add the garlic. Then add 2 cups of the spinach and cook for 3 more minutes. Stir in the blended white bean and cashew mixture. Season with salt, pepper, and red pepper flakes.

Evenly spread on the pizza dough. Cut the artichoke hearts in quarters and put them on the pizza together with the remaining spinach. Sprinkle with the vegan cheese.

Bake the pizza for 8 minutes or check out the instructions on the package (each pre-made pizza dough is different). Enjoy!
Vegan Caprese Pizza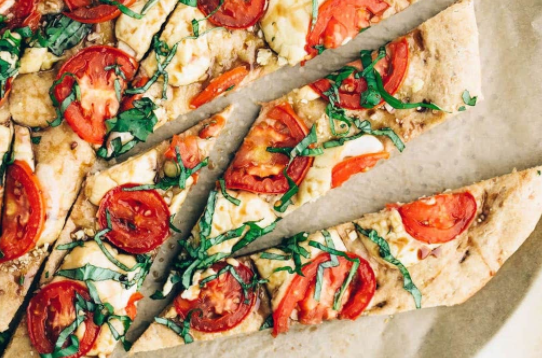 Ingredients 
1 pound multigrain pizza dough (allow it to sit at room temperature for 30 min before rolling 

⅔ cup filtered water

½ cup raw cashews 

1 tablespoon nutritional yeast

1 tablespoon arrowroot powder 

1 tablespoon apple cider vinegar

½ teaspoon sea salt 

2 tablespoons olive oil

2 to 3 cloves garlic, minced 

2 to 3 ripe tomatoes, thinly sliced 

Alessi Balsamic Reduction

Handful fresh basil leaves, thinly sliced 

Crushed red pepper flakes 
Instructions
Preheat the oven to 400F. Line a round, vented pizza pan with parchment paper. 

 Lightly dust a clean work surface with flour, and roll the pizza dough out into a 15-inch circle. Transfer to the lined pizza pan and bake for 7 minutes, or until the bottom is just beginning to set.

While the pizza bakes, prepare the cashew mozzarella by adding the filtered water, cashews, nutritional yeast, arrowroot powder, apple cider vinegar, and sea salt to a high-speed blender. Blend on high for 2 minutes, or until completely smooth. Pour the mixture into a saucepan. Turn the heat on medium and whisk constantly for 3 to 5 minutes, or until it just begins to thicken. Do not overheat. Set aside to cool slightly.

Brush the top of the par-baked pizza dough with the olive oil and sprinkle with the garlic. Use a tablespoon to drop spoonfuls of the cashew mozzarella across the surface of the pizza. Top with the sliced tomatoes.

Return the pizza to the oven and bake for another 8 to 14 minutes, or until desired doneness is reached.

Remove from the oven and let cool slightly. Generously drizzle with the Alessi Balsamic Reduction and sprinkle with fresh basil. If desired, season with sea salt and crushed red pepper flakes.

Serve immediately.
If you try any of our delicious (and easy) vegan pizza recipes, we would love to see your creation on Instagram - tag us at @FITAID !