You know we've got your back when it comes to drinks that serve the purpose of being functional AND delicious, now let's take the same approach to your dinner table. Here are some of our favorite simple and nutritious recipes for those busy weeknights when you're looking to fuel your body without spending too much time in the kitchen. 
Paleo Strawberry Avocado Salad:
This delicious keto friendly salad pairs nicely with an ice cold
FITAID Strawberry Lemonade
.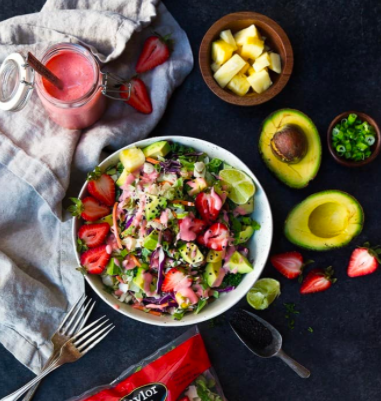 Ingredients
: 
Green Cabbage

Kale

Romaine lettuce

Carrots

Roasted, all-natural sunflower seeds

Green onions

Bacon, cooked and diced 

1 ½ cups pineapple diced 

2 cups of strawberries hulled and halved 

2 avocados diced 

¼ green onions chopped, for garnish 

Black sesame seeds 
Dressing
: 
8 strawberries hulled and halved 

2 tablespoons honey 

⅓ cup plus 2 tablespoons avocado oil 

½ lime juiced 

1 teaspoon dijon mustard 

1 tablespoon red wine vinegar

½ teaspoon sea salt 

½ teaspoon black pepper 
Check out other recipes and how to put this beautiful salad together
here
. 
Spicy Thai Chicken Zoodles:
Try combining this with an ice cold
LIFEAID Thrive
for a refreshing touch of sweet heat.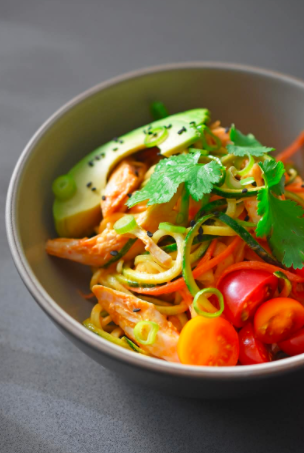 Ingredients: 
Dressing
1 tablespoon sunflower seed butter or your favorite nut butter 

1 teaspoon sriracha 

½ lime juiced 

Pinch of salt 
Salad
1 zucchini, ends trimmed 

1 small carrot, peeled and thinly sliced 

1 cup leftover cooked chicken, shredded 

¼ avocado, peeled and thinly sliced 

½ cup cherry tomatoes, halved 

1 small scallion, thinly sliced 

1 tablespoon fresh cilantro leaves 

1 teaspoon toasted sesame seeds 
Instructions: 
Make the dressing in a large bowl by combining the sunflower seed butter, sriracha, lime juice, and a pinch of salt. Whisk well to blend a thick sauce. Ta-dah!

Now go grab your veggies and leftover cooked chicken from the fridge. Get your vegetable spiralizer and make your zoodles.

Finish dicing and chopping your other veggies and herbs.

Dump the raw zoodles into the bowl of dressing and add the julienned carrots and chicken. Toss well to combine.

If you're feeling fancy, transfer the salad to a clean bowl and top with sliced avocado, cherry tomatoes, scallions, cilantro, and toasted sesame seeds. Eat immediately.
Head to
nom nom paleo
for this recipe and several other simple and quick dinner recipes. 
Ground Turkey Sweet Potato Skillet:
Our favorite pairing with this comforting meal is an ice cold
IMMUNITYAID
. The flavorful orange boost is a perfect sweet treat without the guilt.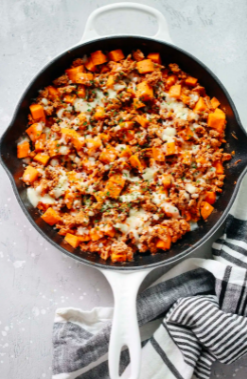 Ingredients: 
2 tablespoons extra virgin olive oil 

1 pound free-range extra lean ground turkey 

1 teaspoon garlic clove 

½ cup onions 

½ cup yellow pepper 

Salt and pepper 

A pinch of red chili flakes 

½ cup shredded mozzarella cheese 

Fresh parsley 
If you want to know why you should use a cast iron skillet instead of a regular pan and want to see the step by step directions, check out
Primavera Kitchen
Smoked Ribs:
A protein packed favorite that goes down easy with a chilled
PARTYAID
. 

Now this is a fan favorite. We all love a good bbq smothered rack of ribs. However, for the best smoked ribs, check out
Traeger's
advice on the perfect way to make these ribs. It's all about the 3-2-1 method. 
Enjoy these simple recipes and let us know what you think! Tag us on Instagram with your favorite weeknight meals @FITAID