Want to know more about LIFEAID?
LIFEAID Beverage Company was founded in 2011 by friends-turned-business-partners, Orion Melehan and Aaron Hinde, who were passionate about fitness and health. We are based in Santa Cruz, California and produces a range of functional beverages designed to support active lifestyles and specific fitness needs.


LIFEAID products are different from their competition in a few key ways. First, we are formulated with natural and functional ingredients that are specifically chosen to support different aspects of fitness and recovery. The ingredients in LIFEAID products are backed by scientific research and are carefully selected to ensure that they are safe, effective, and of high quality. All of our hand-picked ingredients have met the highest supplement standards and remain vegan, non-gmo, and gluten-free.
Second, LIFEAID products are free from artificial sweeteners, and are made with non-GMO ingredients. This sets them apart from many other functional beverage brands that use artificial sweeteners, and additives in their products. Unlike other drinks marketed as "healthy alternatives" that are sweetened with artificial sweeteners like sucralose, aspartame, or Ace-K, LIFEAID products are ALWAYS naturally sweetened.
Third, LIFEAID products are designed to be convenient and easy to use. They come in a range of formats, including cans and powder packets, and are easy to take on-the-go. And they taste GREAT!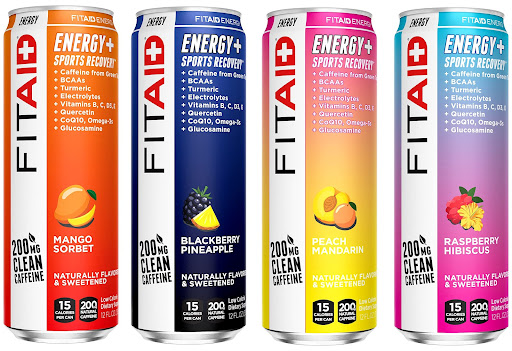 Here are five positive testimonials from customers who have used LIFEAID products:
"I started drinking LIFEAID products after a tough workout, and I was amazed at how much they helped with my recovery. They taste great and I love that they are made with natural ingredients. I would definitely recommend them to anyone who is looking for a healthier way to recover after a workout!" - Sarah J.
"As someone who is always on the go, I love how convenient and easy LIFEAID products are to use. The FITAID powder packets are perfect for when I'm traveling or don't have access to a fridge. They taste great and give me the energy and focus I need to power through my workouts." - Mark S.
"I've tried a lot of different recovery drinks and FITAID products are by far my favorite. They taste great and they really help me to recover faster after a tough workout. I love that they are made with natural ingredients and don't have any of the junk that a lot of other drinks have." - Rachel K.
"I've been using the IMMUNITYAID Powder Packs to boost my immune system and stay healthy during cold and flu season. They taste great and I feel like they really help to keep my immune system strong." - Tom H.
"I'm always looking for ways to stay hydrated and focused during my workouts, and LIFEAID products have been a game changer for me. The FOCUSAID cans are perfect for when I need a little extra boost, and they taste great too!" - Katie B.

Their most popular drink is FITAID. It is a drink that is designed to help support recovery after exercise. It contains clean caffeine from green tea extract, which can help to enhance mental focus and alertness. Additionally, FITAID contains vitamins such as turmeric, glucosamine, vitamin B12, and BCAAs that can help to support muscle recovery. These ingredients are carefully selected for their potential health benefits and are included in FITAID in the form of clean, whole-food supplements.