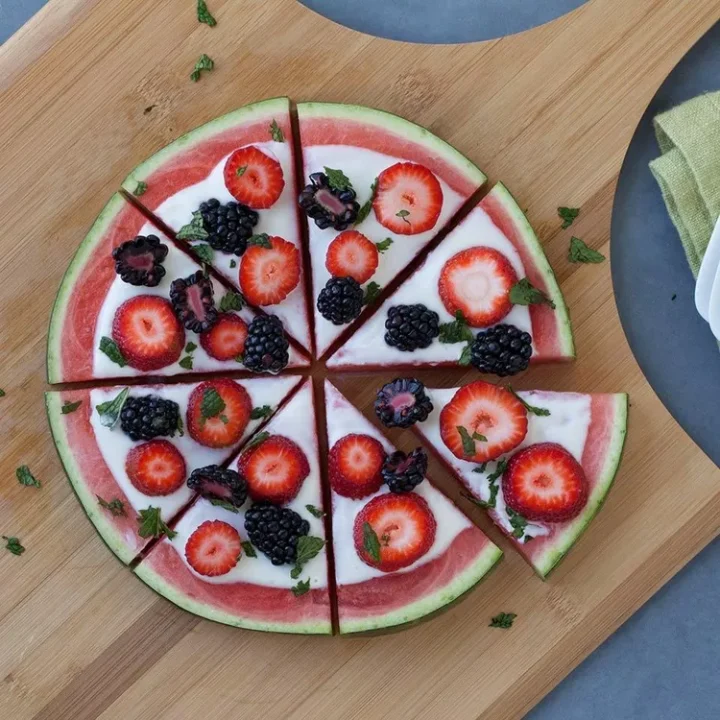 Celebrate the 4th of July with a Refreshing Watermelon Pizza Dessert!
Get ready to add a splash of color and a burst of freshness to your Independence Day gatherings with a delightful Watermelon Pizza Dessert! Watermelon Pizza?! You read that right - this fun and healthy twist on a traditional pizza will have your taste buds dancing with joy. A juicy watermelon base, topped with tangy yogurt "sauce", and loaded with sweet berries, this patriotic treat is as delicious as it is beautiful. So, let's dive into the recipe and create a vibrant dessert that will steal the show this 4th of July!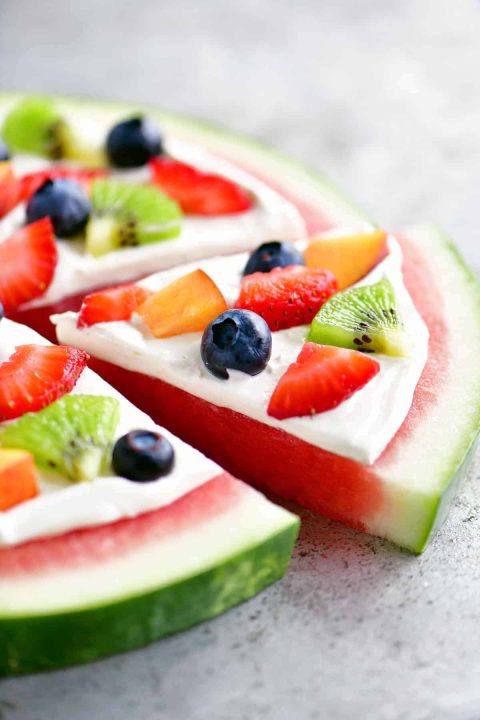 Ingredients:
For the Watermelon Pizza:
- 1 large, round slice of seedless watermelon (about 1 inch thick)
- Fresh blueberries
- Fresh raspberries
- Fresh strawberries, sliced
- Fresh mint leaves, for garnish
For the Yogurt Topping:
- 1/2 cup Greek yogurt (you can use vanilla or plain)
- 1 tablespoon honey (adjust to taste)
- 1/2 teaspoon vanilla extract
Instructions:
Prepare the Watermelon Slice:
   - Start by choosing a large, round slice of seedless watermelon. Make sure it's about 1 inch thick to provide a sturdy base for your pizza.
   - Place the watermelon slice on a clean cutting board or a serving platter.
Create the Yogurt Topping:
   - In a small bowl, combine the Greek yogurt, honey, and vanilla extract.
   - Stir well until the ingredients are thoroughly mixed. Feel free to adjust the sweetness by adding more or less honey to your liking.
Assemble the Watermelon Pizza:
   - Spread the yogurt topping evenly over the watermelon slice, just like you would spread sauce on a pizza crust.
   - Arrange fresh blueberries, raspberries, and sliced strawberries on top of the yogurt, creating a beautiful, patriotic pattern.
   - For an extra festive touch, sprinkle some fresh mint leaves over the fruit.
Serve and Enjoy:
   - Slice your Watermelon Pizza into individual portions, just like you would with a regular pizza.
   - Serve it immediately or refrigerate for a short while to allow the flavors to meld together.
   - This refreshing dessert is best enjoyed chilled, making it perfect for those hot summer celebrations.
   - Watch as your guests' eyes light up with delight when they see this vibrant, healthy treat.
Tips:
- Feel free to get creative with your fruit toppings! You can use any red and blue fruits you like, such as blackberries, cherries, or even sliced kiwi.
- Add a sprinkle of shredded coconut or a drizzle of melted dark chocolate for extra flavor and texture.
- If you're serving the Watermelon Pizza at a later time, wait to add the yogurt topping and fruits until just before serving to keep the watermelon slice firm.
This 4th of July, elevate your dessert game with this delightful Watermelon Pizza! It's a refreshing and healthy treat that embraces the colors of the American flag. With succulent watermelon, bright berries, and a creamy yogurt topping, this dessert is a showstopper that will impress your guests and satisfy their sweet cravings. Put on your apron, grab that watermelon, and get ready to indulge in a slice of pure summer bliss! Happy Independence Day!
COURSE: Dessert, Snack
CUISINE: American
COOK TIME: 10 minutes
TOTAL TIME: 10 minutes
SERVINGS: 8 Servings
SERVING SIZE: 2 Slices
CALORIES: 64 cal
MACROS: 1g Fat, 15g Carbs, 2g Protein
Originally posted on https://www.eatingwell.com/recipe/254624/watermelon-fruit-pizza/ <3