Aug. 3, 2019 by JESSICA DANGER | Morning Chalk Up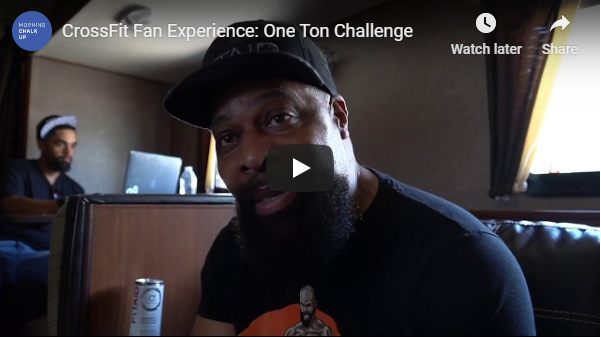 Hundreds of fans packed into the FITAID Lounge last night to watch about a dozen athletes take on the One Ton Challenge, an attempt at accumulating 2,000 total pounds over six lifts: back squat, deadlift, bench press, clean, jerk and snatch.
FITAID brought in the legendary C.T. Fletcher to emcee the first-of-its-kind event at the CrossFit Games. "It was fun doing something new…I can't wait to come back to the Games," Fletcher told the Morning Chalk Up. "Watching Wes Kitts throwing up big weights that powerlifters struggle with. It was amazing."
"It's nice to finally see some heavy barbells getting thrown around," one fan told us during the event in passing.
Athletes like Wes Kitts, EZ Muhammad, Adrian Conway, Kristin Pope, Morghan King, Katie Cork and Logan Aldridge had 20 minutes to hit their max weight on squat, Bench, Deadlift, Snatch, Clean, and Jerk hoping to accumulate a total weight of 2,000 pounds for men and 1,200 pounds for women, earning themselves a spot in the One Ton Club.
Adrian Conway deadlifted 635 pounds for a 30 pound PR, "It was an amazing event and the environment led me to get all six lifts, which really are all PR's within the last few years. It was absolutely created by the environment and the presence of C.T. Fletcher," he told the Morning Chalk Up.
Kristin Pope snatched 195 pounds just two weeks after her training was interrupted by a health issue. "I snatched 195lbs in front of literally THOUSANDS of people cheering me on at the CrossFit Games! I've never had so much fun throwing around a barbell. Thank you for relighting my fire," she wrote.
Wes Kitts, who won the men's division, jerked 425 pounds and squatted 600 pounds while adaptive athlete Logan Aldridge deadlifted 445 pounds and cleaned 255 pounds, a five pound PR for him. Kitts told us in an interview, "I was just having a great time…Just came out to work out with some guys."
The event was the product of a partnership between Aaron Hinde, Co-Founder and President of FITAID, and Anders Varner, Podcast and Director of Media at the Shrugged Collective.
On being the largest weightlifting event at the CrossFit Games this year, "This event has changed the trajectory of a few careers," Hinde told Morning Chalk Up.
---
> > > Live well.