Professional
athletes
do not wake up every morning and begin their training session by playing a full game, start to finish, of their specific sport. Rather, they lift weights, practice skill transfer exercises, run sprint drills, do yoga (if they're smart) and learn the required strategies to help them become
better athletes
in their sport. So, why do the most serious yogis in the world practice yoga six days a week as their training?
Answer: We can do better.
Here are five (5) movements any yogi can practice during training to help enhance their experience on the mat and remain injury free:
1. Box Squats
Two words: Posterior chain. Yoga does a great deal to build our anterior chain—hello, Chaturanga!—but when it comes to our glutes and hammies, we're often left with all stretch and no strength. We love the box squat for its capacity to build strength in your back body while also creating stability in your core. It's also an effective movement to help prevent wear and tear on the cartilage surrounding your hip joints.
2. Strict Pull-Ups
Yoga is all about balance. Pose, counter-pose, pose, counter-pose. Unfortunately, as yogis, we push and push and push with no pull. Adding strict pull-ups (or ring rows) to your routine can help balance all the pushing we do on our mats, allowing us to better hold our own if we're ever challenged to a game of tug-o-war with a group of paddlers.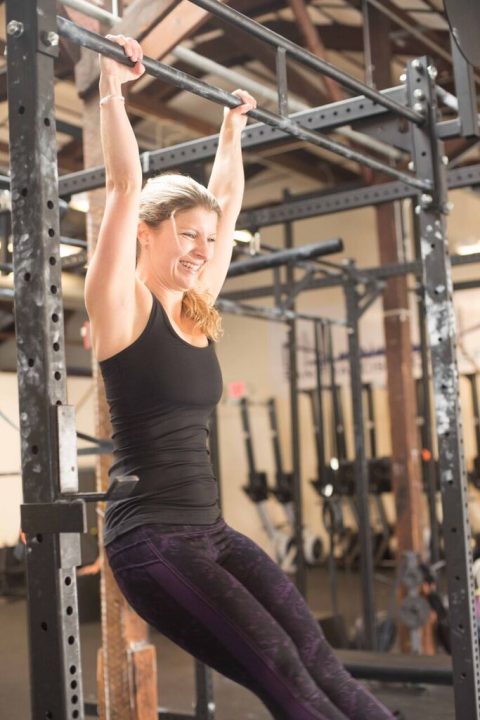 3. Hollow Body Rocks/Holds
All yogis want to stand on their hands and have a few arm balances in their back pocket as fun party tricks. Hollow body rocks and holds are a perfect way to build the core stability needed for achieving complex gymnastics movements such as handstand. The best gymnasts in the world use these movements as part of their regular training, which allows us as yogis to benefit from their expertise, mirror their techniques in practice and improve our abilities to gravity surf like a boss.
4. Hill Sprints
Yes, it's as simple as running up a hill — fast. Yoga is an amazing practice, but it's not a complete physical practice because we rarely encourage a spike in our heart rate. By adding (up-hill) sprints into your practice, your body gets a stimulus that is imperative to maintaining overall physical health. Having that extra stimulus will also prevent you from pushing too hard on your yoga mat where overexertion often leads to injury.
5. Turkish Get-Ups
Stability, balance, strength, rotation and unilateral loading all come together into this one elegant movement. The Turkish Get-Up is an incredible exercise to help you practice stabilizing your body under a load. Many yogis struggle to balance on one foot and/or create a stable shoulder position in downward-facing dog. Practicing the Turkish Get-Up with a dumbbell or kettlebell will drastically improve these two essential pieces of your yoga practice while also building core stability and breath awareness.
C  O  N  C  L  U  S  I  O  N
Now that you have the tools, it's time to find yourself a badass coach and supplement one day of your practice per week with these functional training techniques.
You're guaranteed to be the strongest, most sustainable yogi on the mat as a result.
---
Debbie Steingesser, E-RYT 500, CF-L2, has been teaching her inspired approach to Vinyasa yoga for over a decade. She holds her Experienced Registered Yoga Teacher certification at the 500-hour level with the Yoga Alliance and is a CrossFit Level-Two Coach. Debbie was named one of the "Top Yoga Teachers in the Bay Area" by Common Ground Magazine in 2008, and has been a featured presenter at Yoga Reaches Out, Bhakti Fest and various international retreats. For the past eight years, Debbie has been a committed brand ambassador for Lululemon Athletica.
Debbie's mission is to guide individuals towards a deeper sense of strength, balance and personal power through yoga and movement. She is the creator of YogiWOD.com, a website and interactive community bringing accessible yoga practices to athletes. Debbie provides regular content and offers her Functional Yoga For Athletics seminar through MobilityWOD.com. Debbie's classes and workshops are fun, challenging and open to all experience levels.
To find out more, visit: YogiWOD.com and follow @debbiesteingesser on Instagram.
> > > Live well!