Mom Life: Keeping Active (and Sane!) During a Pandemic
2020 and 2021 have been some of the most trying years for everyone, but I think most parents can especially relate to how life-rocking this last year has been. Whether you've navigated pregnancy/postpartum in a way you completely didn't expect, had to add "teacher" to your resume as your children took on virtual learning, or navigated job changes or "working from home" with kiddos around… this last year has pushed us and challenged us in ways we were never expecting.
As a parent, taking time for yourself is as critical as ever these days. One of my favorite phrases that always rings through my head, "You can't pour from an empty cup." Carving out time in your day to take care of yourself--physically, mentally, and emotionally--is what gives us the ability to be the best we can be for our babies.
For me, one of the best ways I can care for myself is to stay active. Here are my best tips that have helped me get back into a fitness routine as I navigated postpartum life during a pandemic:
Find an activity that you LOVE and look forward to.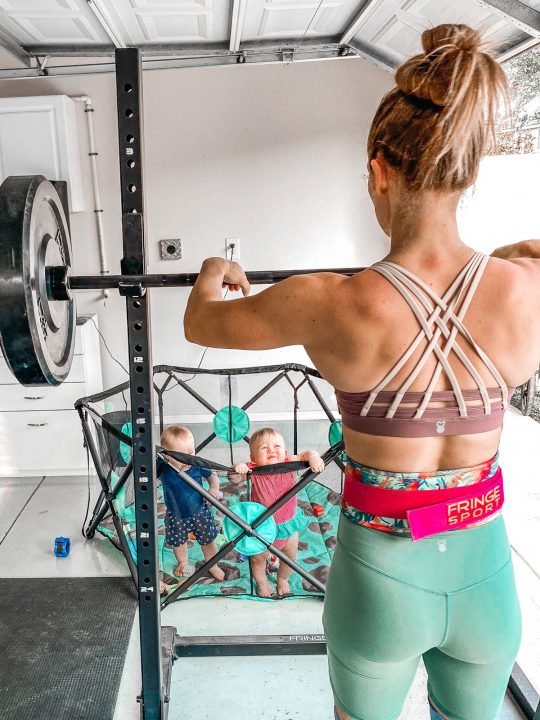 This has been the key to my fitness journey, both pre-pregnancy and postpartum. Finding a sport or activity that I truly enjoy is what keeps me going, even on my "Ugh, I don't feel like working out" days. Whether that's CrossFit, walking, riding a bike, weightlifting, or taking a kickboxing class, find an activity that fires you up.
Schedule it in + hold yourself accountable.
I treat my workouts like a meeting--they are scheduled into my calendar. I wouldn't miss an important meeting, and for me, these workouts are an important meeting with myself. Of course, some days it is unavoidable and life happens, but overall, I try and treat my 30 min workout like the priority it is!
Create a routine that works with your kids' schedule.
I have twins that are a year old and since they were born, my workout schedule has changed as they've grown and changed. It's great to be adaptable! I used to bring their swings out to our garage gym for them to sit in while I worked out. As they got older, I started working out during their naps or after they went to bed at night. Now, our routine is them having an afternoon snack (full kiddos + more content kiddos!) and then we all go out to the garage gym together. They hang out in their giant playpen and watch/imitate us as we workout and we all love it!
Get more steps in.
One of my favorite habits that I started up a few months ago is going for a walk or jog every morning with the kids. Getting fresh air in the morning sets us all up for a better day, the babes love sightseeing, and it helps me get movement in early, even on days where I'm not sure I'll get in a true "workout". It's also a great time for me to call a family member and catch up, or listen to a podcast; so it's definitely a win-win!
I hope some of these tips can help you reach your activity goals during these crazy times. What suggestions would you add to this list? I'd love to hear them--feel free to leave them in the comments below!
Happy Fitness-ing, mamas!
Molly Tilove @
mollyeledge