---
Functional drink line expands into retailers nationally while preparing for new product launches.
March 29, 2019 – Santa Cruz, CA – High-growth functional beverage brand LIFEAID, which produces premium vitamin drinks, recently closed a $7.7 million financing round to support the brand's expanding distribution in retailers across the U.S. The round includes investments totaling $4.7 million from Everplus Capital, Cambridge Companies SPG and a half-dozen angel investors, in addition to a $3 million asset-backed line of credit with Dwight Funding.
LIFEAID Beverage Co. produces a line of nutrition-focused drinks for consumers with active, performance-driven lifestyles. The current LIFEAID lineup features six functional drinks, each with a unique proposition and dedicated consumer. In 2019, LIFEAID will expand its presence in Walmart and Kroger stores along with additional retailers nationwide. FitAid, the brand's pioneering post-workout recovery drink, is a favorite of fitness devotees and professional athletes. ImmunityAid became a top-selling product for the brand just six months after being launched at the start of last fall's cold and flu season, demonstrating the increasingly broad appeal of LIFEAID.
In addition to increasing the presence of its drinks in prominent retailers, including a new authorization with Wegman's, LIFEAID Beverage Co. has also fully established its direct store delivery (DSD) network in the Pacific Northwest. New partners in the region include The Odom Corporation, Sound Beverage Distribution Inc., Craig Stein Beverage and NW Beverages. In Northern California, LIFEAID finalized a similar agreement with distributor DBI Beverage. The brand is starting to build a similar DSD network in the Northeast and is also increasing its presence in convenience stores like Giant.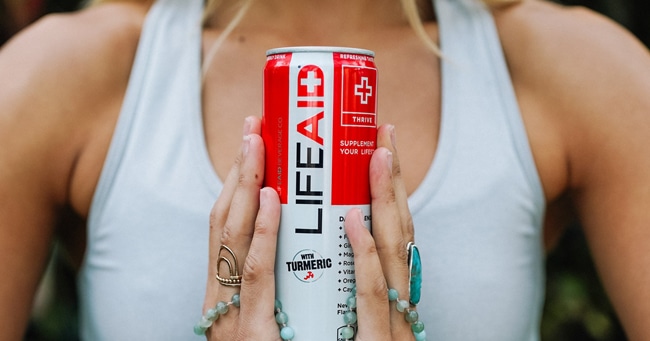 LIFEAID CEO Orion Melehan stated, "Strategic investors and working capital financing are more important now as we continue to build the LIFEAID brand and platform of customized vitamin drinks — vitamins you'll actually enjoy drinking. Our goal for 2019 is to emphasize product innovation and smartly capitalize on growth opportunities with partners that understand our vision, mission and the brand's deep connection with its consumers."

"We're proud of the caliber of our latest investors, and appreciate the follow-on investments from some of our earlier ones who believed in LIFEAID Beverage Co.'s tremendous potential early on," Melehan continued. "In addition to our equity financing, our new relationship with Dwight Funding gives us the flexibility to strategically invest in growth without additional constraints on working capital, given our growing inventory and accounts receivable."
Joe Yu, principal of Everplus F&B Fund stated, "LIFEAID has shown an incredible and rare ability to continually capture the attention of a dedicated and rapidly growing audience of wellness enthusiasts. The functional beverage category is growing and we think LIFEAID will be an increasingly dominant player in that category. We are confident in the ability of LIFEAID's forward-thinking and highly strategic leadership to achieve their goals, and we are very excited to be an investor in the company."
Dwight Funding managing partner Ben Brachot similarly commented, "LIFEAID is a leader in the wellness and performance space. We are excited to be working with a brand that has such a strong bond with its customers. The brand's growth is built on a strong foundation that has set them up to become a household brand name."

About LIFEAID
LIFEAID Beverage Co. was founded by Orion Melehan and Dr. Aaron Hinde in 2011 and is a pioneer in functional beverage. The brand offers nutrition-focused products including top-selling natural energy drink FitAid, as well as LifeAid, FocusAid, ImmunityAid, PartyAid and GolferAid. Visit www.lifeaidbevco.com.
About the Financial Round Partners
Everplus Capital, located in Newport Beach, California, manages a consumer-oriented fund focused on better-for-you food and beverage brands. Visit www.everplus-cap.com.
Cambridge Companies SPG is a highly respected strategic opportunity investment firm based in Newport Beach, California. Cambridge SPG turns opportunities into value by buying controlling and non-controlling interest in companies poised for growth. The firm focuses on retail, consumer packaged goods (CPG) as well as food & beverage. LIFEAID Beverage Co. is the firm's 25th investment in the CPG space. Visit www.cambridgespg.com.
Dwight Funding provides debt solutions uniquely tailored to the needs of growing consumer brands. With a nationwide presence, Dwight has deep ties to the CPG community and is able to provide its portfolio companies with strategic advice and solutions throughout the brand lifecycle. Visit www.dwightfunding.com.

---
A big thanks to Brad Avery of BevNET.com, Inc. for helping us share the news with the #beverage and #CPG financial community.