---
Posted by WRAL.com on 7/11/2019 at 7:36 p.m.
RALEIGH, N.C. — A Raleigh man, who recently won an international fitness title and was crowned The Strongest One-Armed Man on Earth, is now using the platform to show others how to reach beyond their limits.
Logan Aldridge, 28, lost his left arm in a boating accident when he was 13. But, as a former high school athlete, Aldridge said his fitness level soared when he started CrossFit six years ago.
"I can say with certainty, I would have never imagined, or could have imagined, this," he said.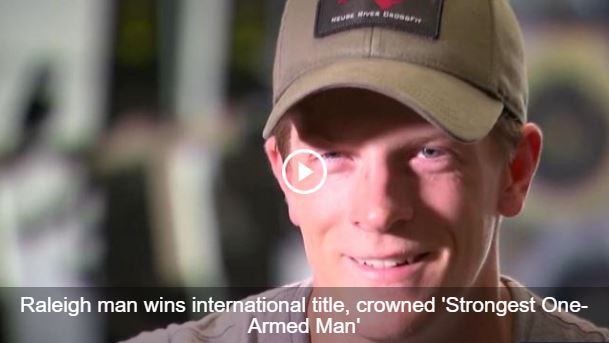 Earlier this summer, Aldridge competed in the WheelWOD international competition for adaptive athletes. Adaptive athletes have one or more physical impairments.
Despite winning the title of "Strongest One-Armed Man on Earth," Aldridge said his main goal has always been to inspire others.
"I wanted people to look at me and say, 'If he can do it, than I sure can.' There's no reason not to try," he said.
John Prescott, who owns Neuse River CrossFit, introduced Aldridge and nine other adaptive athletes to the gym.
"Logan really radiated the mindset of it's not a matter of if, it's a matter of how," Prescott said. "It's been one of the coolest parts of this whole experience, learning how to be with adaptive athletes and how to coach them."
"We're far more capable than we give ourselves credit, or than we know," Aldridge said.
Aldridge said he plans to continue to inspire adaptive athletes to live healthier lives and loves helping others to see the possibilities.
You can follow Logan's journey on Instagram: @aldridgelogan
---
> > > Live well.