Brianna Cope is a professional surfer born and raised on the beautiful island of Kauai, Hawaii. Growing up near the ocean, Cope fell in love with the power of its waves and began surfing on a longboard at the age of four.


"I love how free and alive I feel in the ocean. It is such an indescribable feeling to be able to ride a wave, always thinking how special it is that you can only ride that wave once—you will never get the same wave again," says Cope.
Cope won her first surfing competition when she was just 11 years old, deciding then and there that she wanted to be a professional surfer. Currently, Cope can be spotted competing on the World Surf League qualifying series, traveling across the globe for competitions. Her 2018 documentary "Surfing to Cope" is now available on iTunes.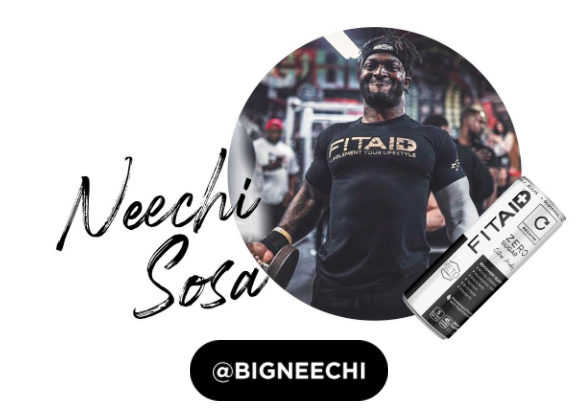 'Big Neechi' is an internationally recognized celebrity, bodybuilder and festival host known for his incredible strength, muscular physique, and for throwing wild parties.
Neechi graduated from Texas State University as somewhat of a campus legend, obtaining a degree in Exercise & Sports Science. His capabilities in the gym came at an early age when he broke his Jr. High School's bench press record of 315 lb. in the eighth grade! Big Neechi has since won the title of "Combine King" and "Strongest Man". 
During college, Big Neechi also earned another reputation for himself after throwing a Project X-style pool party that went viral and ended up on every news outlet in America. Big Neechi has become the #1 event host in Texas, and even hosted Spring Break in South Padre Island. 
No matter how wild his lifestyle gets, Big Neechi always prioritizes fitness, maintains a great physique, and displays insane numbers on all his lifts. (He was the 2019 Iron Wars 4 champion after completing a 475-lb. pause-rep bench press!) Weighing only 215 lb., Big Neechi has proven he can keep up with the best of the best.

Greg Lutzka is a professional skateboarder, best known for his technical skills which have landed him countless trophies, gold medals and awards in contests including: X-Games, The Maloof Money Cup, Dew Tours and World Cups. Currently, Lutzka is also the only skater to have ever won the highly respected Tampa Pro an unprecedented three times.
Lutzka's reputation as one of the hardest working skateboarders in the industry is well-earned. At the age of 18, Greg moved from the Midwest to Southern California, the Action Sports mecca of the world. During the course of his career, Lutzka has been featured in videos for Almost & Darkstar Skateboards, K-Swiss and Oakley Eyewear. He has also cross-branded himself with Harley Davidson and Aqua Hydrate, always representing sponsors to the fullest while also practicing and improving his skateboarding skills daily.
Lutzka has acted in a movie, commercials and music videos. During whatever remaining freetime Lutzka has, he enjoys snowboarding, cycle riding and spending time with family and friends.
---
> > > Stay well.